Virtual / Hybrid Learning Meals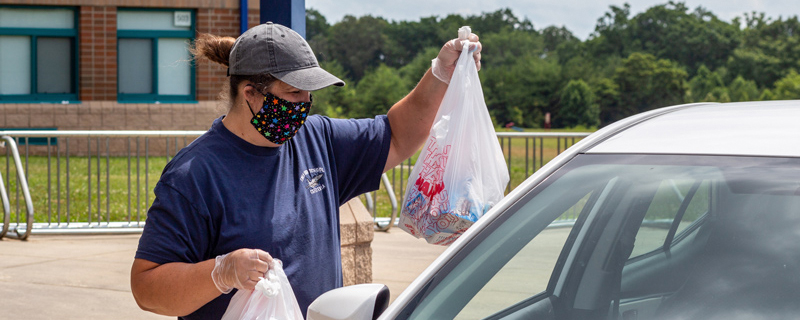 Buncombe County School Nutrition is open for business! Whether learning is remote or in-person, we're committed to serving the meals that students need to be healthy, successful, and ready to learn. Breakfast and lunch meals will be served daily to our students at school sites.
Virtual / Hybrid Learning Meals
If you are enrolled in Virtual / Hybrid Learning, you are eligible to receive one free breakfast and one free lunch daily. Please contact your School Nutrition Manager to pre-order your meals and arrange for pick-up.
Breakfast and Lunch meals are provided to all students free of charge until June 30, 2022.
Children are only eligible for one breakfast and one lunch per day.
USDA announcement regarding meal service.
Families that took part in the no-cost summer meals program will be glad to learn the program has been extended through July 31, 2022. Families are still asked to fill out a Fall 2021 Free/Reduced Meal Application as soon as possible. You can also get a paper copy from your school or the School Nutrition Department.
For more information regarding Free and Reduced Price Meal Applications please contact School Nutrition office at 828-255-5927 or by email at nicole.rodeia@bcsemail.org. Please see below for more important information about the federal free and reduced lunch program.
The carryover period for free and reduced meals for the 2021-2022 school year is Tuesday, October 5th, 2021. The carryover period is the amount of time students are allowed by USDA to remain on the prior year's meal status. In order to qualify for free or reduced meals, parents must complete a new free and reduced meal application every school year.
Students attending one of the Community Eligibility Provision (CEP) schools, Emma, Johnston, Woodfin and Candler are not required to complete free and reduced meal applications and will automatically receive free meals based on the school's participation in that USDA program.
School meals will be available for all students in all school-opening scenarios, including the 100% Remote Learners and for those that register for the Virtual Academy.