The PowerSchool Parent Portal

The PowerSchool Parent Portal connects parents to their child's education. In addition to managing student contact and medical information, parents have real-time access to attendance, grades and assignments, notification preferences, and more. Parents of returning students also use the portal to annually update their child's information. These instructions will help you get started!
If you need an account for Parent Portal, please contact your school for assistance or send an email to powerschoolteam@bcsemail.org

You'll learn to:
Find the Parent Portal,

If you need an account for Parent Portal, please contact your school for assistance or send an email to powerschoolteam@bcsemail.org,

Update your contact information, and

Customize your school notifications for each phone and email address.
You can learn more about the parent portal below.
1.
Portal.BuncombeSchools.org
You may access the PowerSchool Parent Portal through Portal.BuncombeSchools.org. Alternately, on your school's website, look for the Parent Portal button under Quick Links.
If you need an account for Parent Portal, please contact your school for assistance.
Log in using your new Username and Password. Select the Contact Information button at the bottom of the main menu to update your address, phone numbers, emergency contacts, etc. (When re-enrolling a current student, this section will also prompt you for student medical information.)
Look for the button labeled either Year-Round Update or Returning Student Update in the Parent Portal Navigation menu. Is is located on left side of the screen, near the bottom. If you don't see it, click Grades & Attendance (top menu option) and check again. If the portal prompts you with a message that you've already completed an annual update, you'll need to call your school's PowerSchool manager to update your contact info.
You'll need to agree to comply with the Children's Online Privacy Protection Act (COPPA) to begin.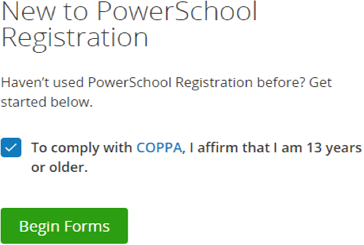 Then, you'll be prompted to enter your child's date of birth as mm/dd/yyyy (Example: 04/03/2001).*
*On this portion of the form, you will use leading zeroes. Why is it different this time? These numbers are used to authenticate your child's identity through different agencies, using differing date standards. Thank you for your understanding!

General Tips:
Once each section is complete, a green Submit button will appear at the bottom of the form. If no such button appears, please look for required areas, outlined in red text, and enter this information.

If no email is available, look for a check box to indicate no email address is available.
Once your account is active and your contact information up to date, you may proceed with setting up your Custom Notifications through Parent Portal. Alternately, you may view our other options for notifications and staying informed at Notifications.BuncombeSchools.org.
About PowerSchool Parent Portal
What is the PowerSchool Parent Portal?
PowerSchool is the school district's electronic student information system (SIS). PowerSchool helps your school access and maintain student, staff, and schedule information. PowerSchool uses the Internet to facilitate student information management and communication among school administrators, teachers, parents, and students.
The PowerSchool Student and Parent portal is a tool that is integrated into the PowerSchool Student Information System (SIS) that is specifically developed for parents and students. The PowerSchool Student and Parent portal gives parents and students access to real-time information including attendance, grades and detailed assignment descriptions, school bulletins, and even personal messages from the teacher. Everyone stays connected: Students stay on top of assignments, parents are able to participate more fully in their student's progress, and teachers can use their grade book to make decisions on what information they want to share with parents and students.
For assistance in activating a PowerSchool Parent Portal account, adding a student to your PowerSchool Parent Portal account, or updating your password, send the following information to powerschoolteam@bcsemail.org
Specific request:
Your full name

School student attends

Student full name